Nanjing Road – A Guide to China's #1 Shopping Street
Stretching for almost 5KM from the Bund through to Jing'an Temple, Nanjing Road features over 600 business including massive modern multi-level shopping malls, historic stores, specialty stores, theaters, world-class hotels, attractions and much more. Nanjing Road dates back to the Qing Dynasty and many of the same shops are still trading today.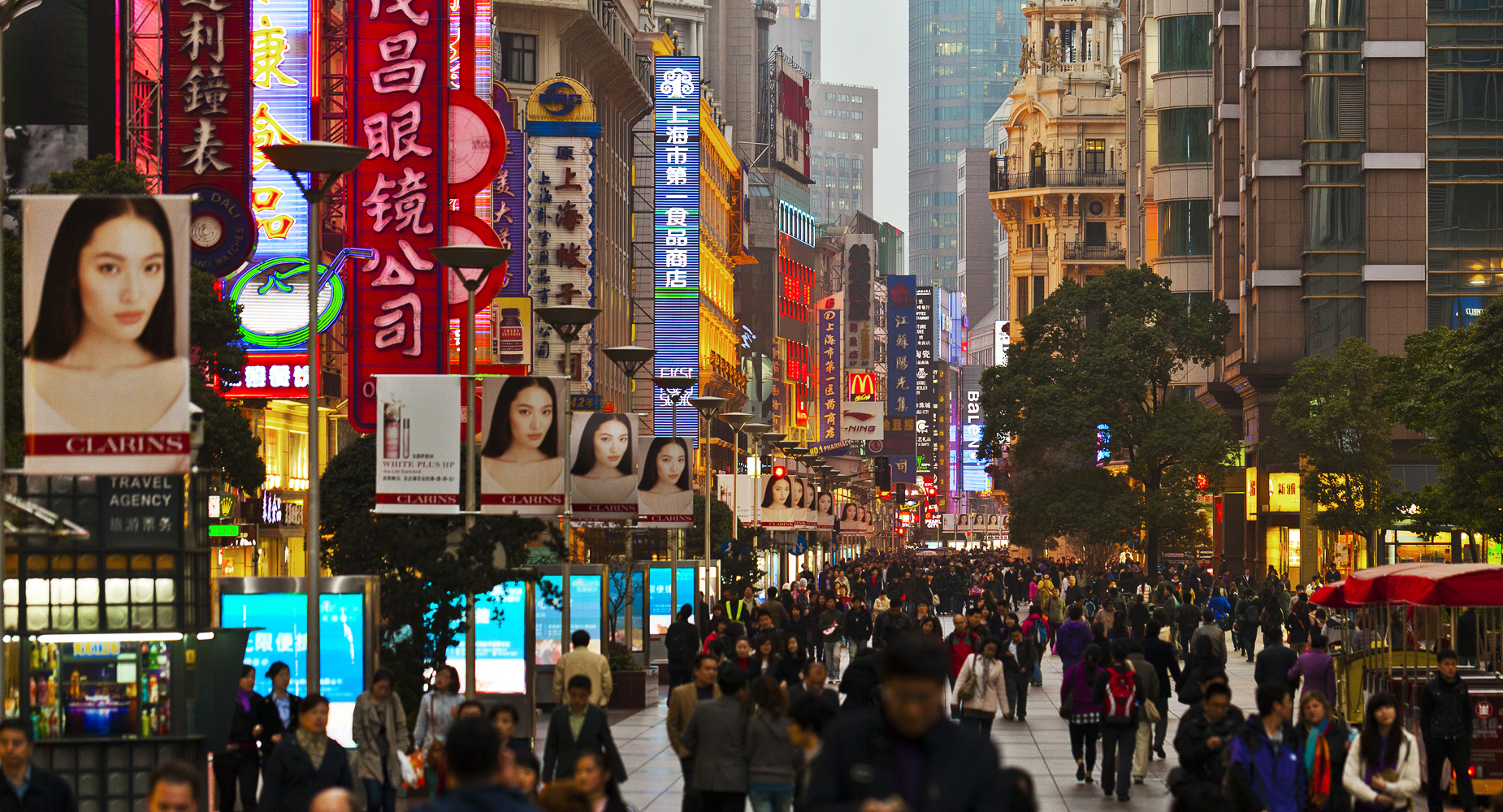 At its eastern end, near to the historic Bund, it begins with malls, restaurants, and cafes that lead into a pedestrian street which stretches from Nanjing Road East Metro station through to Peoples Square Metro Station. This is the main and most popular area, attracting thousands upon thousands of people daily.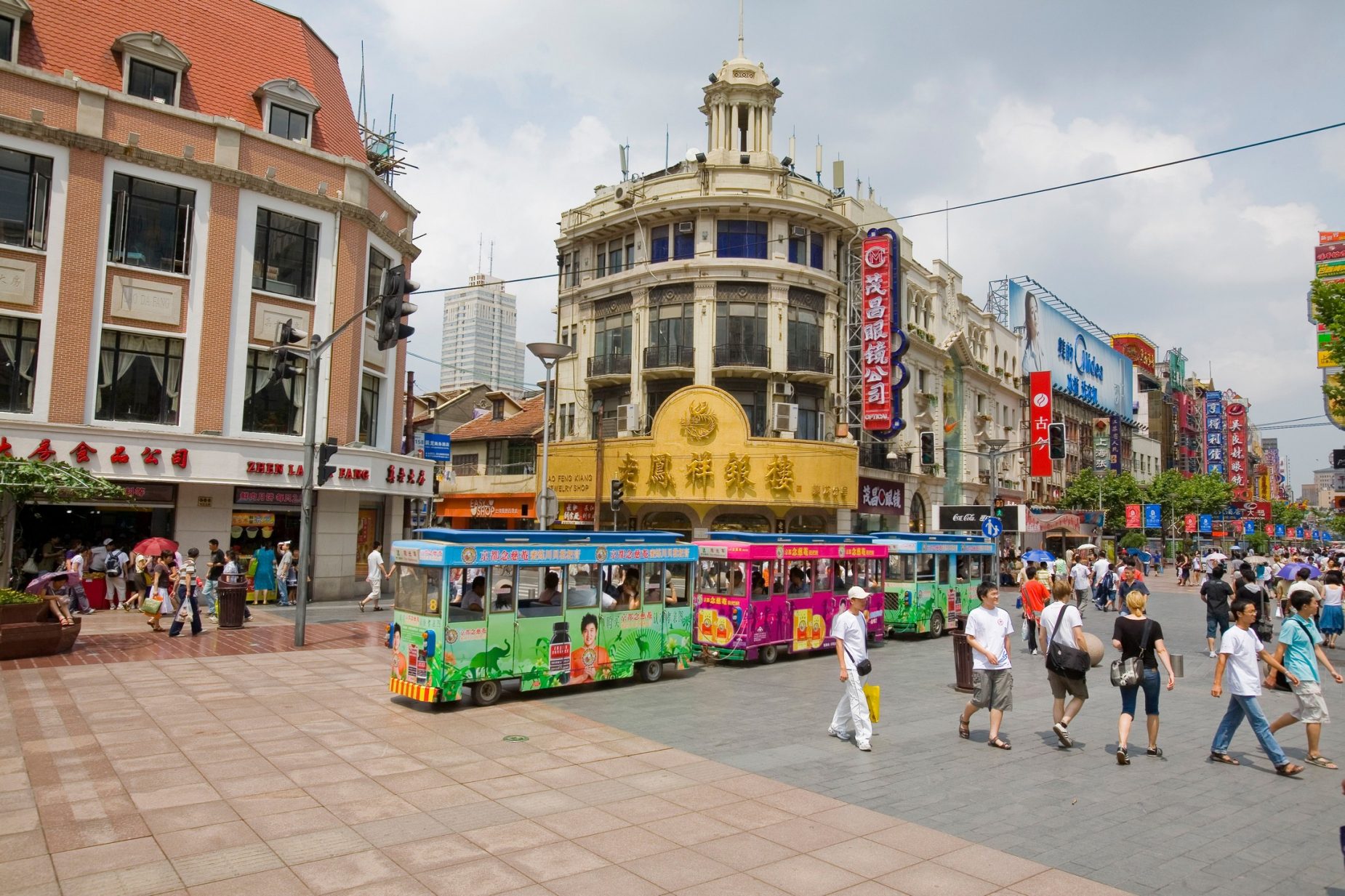 Historic shops along Nanjing East Road
Shanghai Laojiefu Department 海老介福商厦 (1860) – cloths, silks, and fabrics
Heng Da Li Clocks and Watches Co. 亨达利钟表公司 (1864) – high-end watch and clock sales and repairs
Cai Tong De Pharmacy 蔡同德堂 (1882) – four stories of Chinese Traditional Medicines
Shao Wan Sheng 邵万生 (1852) – Specialty local foods
Duo Yun Xuan 朵云轩 (1900) – Chinese calligraphy and painting
Lao Feng Xiang Jewellers 老凤祥银楼 (1848) – jewellery, gifts and souvenirs
Heng De Li Clocks and Watches Co.亨得利钟表公司 – Luxury clocks and watches
The modern malls along Nanjing East Road
Shanghai Sports Goods General Shop 上海体育用品总店 – all kinds of sports equipment
Hualian Commercial Building 上海华联商厦中联店 – fashion and accessories – read more
Landmark Department Store 上海置地广场 – ten floors of shopping covering homewares, fashion, and accessories – read more
Shanghai no.1 Department Store 黄浦区南京东路 – an icon of the strip, China's first department store, now featuring 8 floors of modern shopping retail therapy – read more
Moving beyond the pedestrian strip and onto Nanjing West Road you'll find mostly modern malls, restaurants, and cafes aplenty especially around Jing'an which is quite a prosperous area.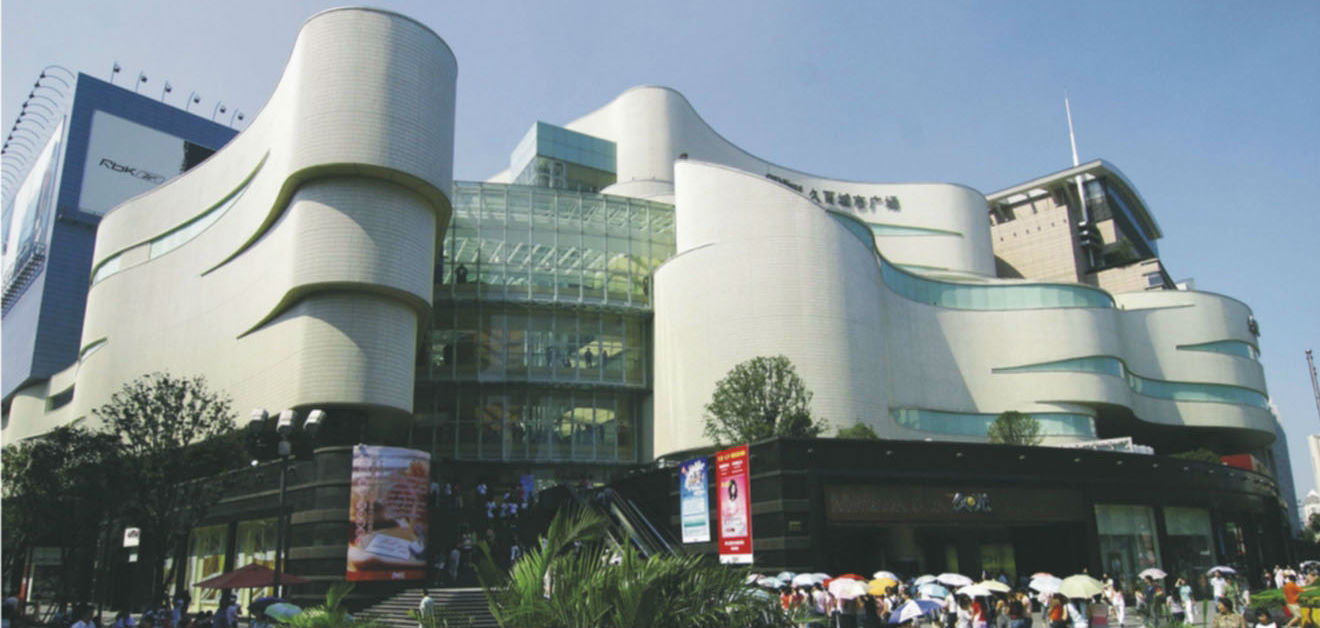 Highlights along Nanjing West Road 
Starbucks Reserve Roastery – freshly opened, and now the largest Starbucks store in the world featuring whats described as a multi-sensory experience featuring roastery, three coffee bars offering multiple choices of brewing methods along with a tea bar, artisanal pastries and more.  Address: 789 Nanjing West Road
Shanghai New World Co., Ltd. (New World City) 上海新世界股份有限公司 – 12 floors of entertainment, shopping, and dining. Home to Madame Tussauds Wax Museum – read more
TAG Heuer – China's largest store for the Swiss watch brand.
Westgate Mall (Westgate Isetan) 梅龙镇广场 – mid-level price shopping mall covering 10 floors offering shopping, entertainment, and dining
CITIC Square 中信泰富广场 – five floors of fashion and dining.
Plaza 66 恒隆广场 – High-end luxury brand mall including names such as Prada, Hermes, Christian Dior, Chanel, Louis Vuitton, Fendi, Cartier, Celine, Bvlgari, Loewe, Hugo Boss, Gieves & Hawkes, Lagerfeld, Escada, Versace, and many more – read more
Shanghai Center 上海商城 – three floors of luxury brand name fashion such as Salvatore Ferragamo, Gucci, Marc Jacobs, Paul & Shark and more.
Jiuguang Department Store 久光百货 – 10 floors of shopping, dining, and entertainment. Homewares through to fashion featuring many high-end brands.
Attractions on Nanjing Road
If you have had your fill of shopping at the time-honoured brand shops and glitzy malls, then it's probably time to kick-back a bit more and take in something a little less commercialized. Here are some of the key attractions along Nanjing Road.
The Shanghai Museum 上海博物馆 – open from 9AM-5PM – admission is 20RMB – The world's largest museum of Chinese bronze works, also China's number one museum for art and artifacts. 201 Renmin Dadao 人民路201号 (near People's Square)
Shanghai Urban Planning Exhibition Hall 上海城市规划展示馆 – open from 9AM-5PM Closed on Mondays – sounds boring and bureaucratic, but you are sure to be amazed. Discover how planners envisage the future of Shanghai and be stunned by the to-scale model of inner Shanghai that takes u an entire floor. 100 Renmin Da Dao 人民大道100号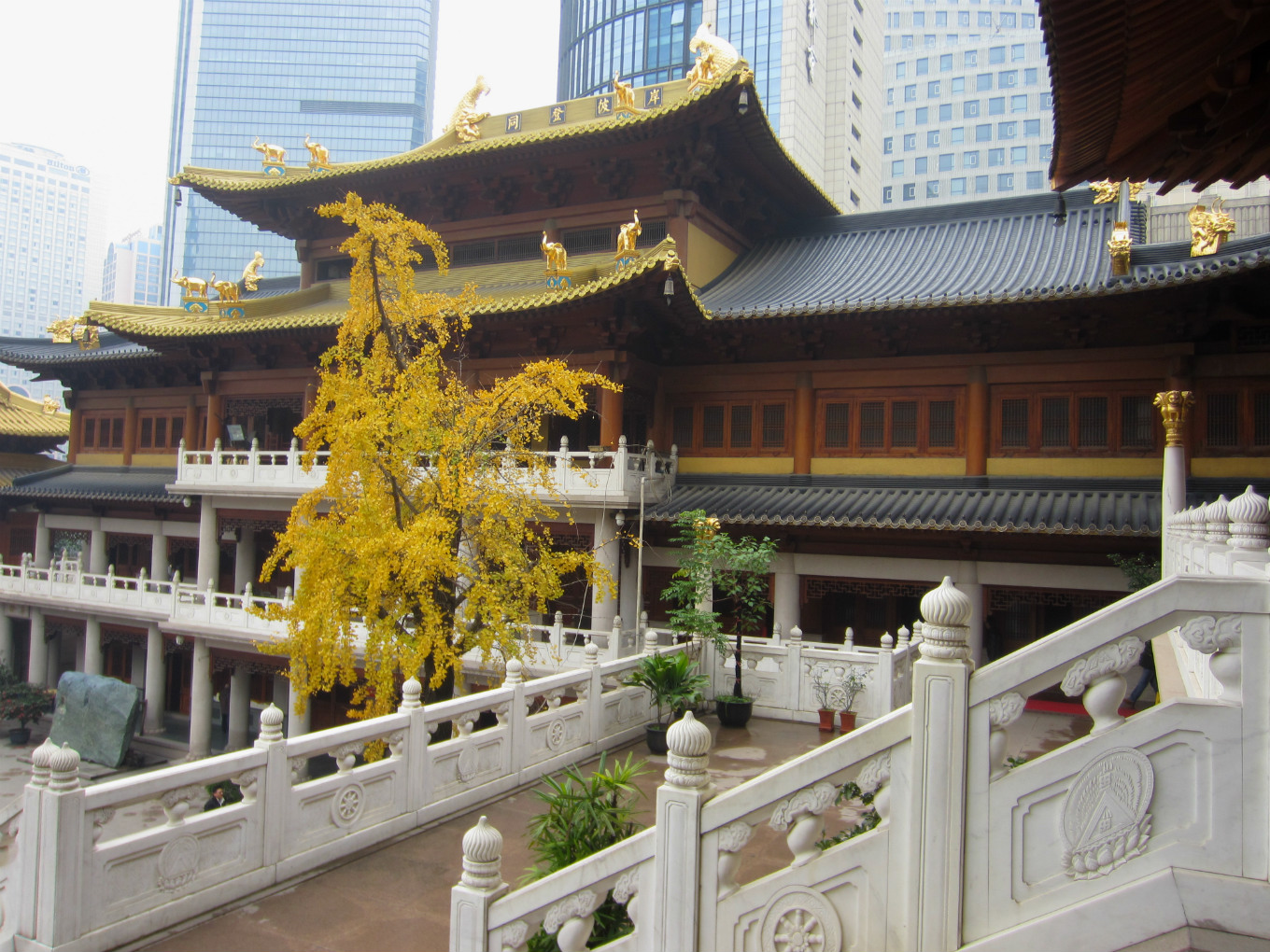 Jing'an Temple 静安寺 – open from 07:30am-5PM – A recently restored Buddhist temple that dates back to the Southern Song Dynasty almost 800 years ago, well worth a visit. There is a delicious vegetarian restaurant and bakery on it's Nanjing West Road frontage. Jing'an Temple Metro Station and take Exit 1, you can't miss it.
Shanghai Theatre – Shows at 7.30pm daily – acrobatic show including tightrope, spinning plates and much more. First Floor, Shanghai Centre, 1376 Nanjing Xi Lu, near Xikang Lu, Jingan district 静安区南京西路1376号上海商城1楼,近西康路 http://www.shanghaicentre.com/theatre/theatre_schedule.php
Shanghai Madame Tussauds Wax Museum – 上海杜莎夫人蜡像馆 – Celebrities in wax – 10th floor of the New World Department Store 68 Nanjing W Rd 黄浦区南京西路
Getting There
Subway Line 1, Subway Line 2 or Subway Line 8 and get off at People's Square. This puts you right in the middle, you can walk east and head down the pedestrian street towards the Bund or head west towards the shopping malls that line Nanjing Roads West and onwards to Jing'an Temple.
Visiting Tips
There are lots of touts, people offering anything from cheap iPhones, 'students' offering free tea parties, and even sexual services, it's best to firmly and sincerely say no thanks, skip it and move on.
It gets busy and if it's a holiday it can be really packed, which for some people takes the enjoyment out of things gettin caught in a river of people. It works best to be a contrarian, so, when everyone is eating lunch, go do your strolling and window shopping, when everyone is doing that, go eat your lunch.
Also, good restaurants get busy at 12-1 and 6-8, get in early and beat the rush.
Where to start? Definitely, at the pedestrian street that is Nanjing East Road, it has lots of character and culture, and it also changes from day to night and is well worth visiting at both times. Then visit Nanjing West Road and get your fill at China's modern shopping malls.
Hotels on Nanjing Road and where to stay? Check out our hand-picked list of the top 4 and 5 star hotels with reviews here.
Nanjing Road Map
On the map you can see the transparent orange overlay, that's the full length of Nanjing Road. The blue line in the middle of that is the pedestrian st.