Jiu-Guang Department Store
Jiu-Guang is the place where you can have the most convenient shopping experience in Shanghai. With the total construction area of 91613 square metre, 10 floors and more than 500 domestic and foreign brands, you can find almost everything you want there, including retail, restaurant, supermarket, and recreation.
Besides, located in Nanjing West Road and connected to the metro line 2, Jiu-Guang is almost the most convenient place for shopping. It's also right next to Jing'an Temple, a popular attraction in Shanghai and functioning Buddhist temple.
The shopping can start from the basement, where on sale is all kinds of fresh food from all around the world. Especially recommended is the imported Japanese food, those are extremely delicacy, including famous Hibiya Kadan, Minamoto Um and the most famous Japanese tea band-Fu Shou Yuan. There is also a food court featuring bakeries, noodle shops, coffee and a mix of Asian and Western foods. You can even line up for some Uncle Tetsu cheesecake.
All the world-class brand gathers on the first floor. In addition to Burberry and Tiffany, there are Agnes'B, Bally, Celine, CK, Dunhill, Tomas Pink, Omega, Vertu, Coach, Hugo Boss, Polo Ralph Lauren.
You can purchase the jewelry on the second floor and the professional women dress on third. The 4th emphasis on the casual style and the 5th sells men clothes. If you are a sports fan, then go to 6th, you can find sportswear and outdoor staff.
I will especially recommend the 7th floor – the famous brand discount zone. To the benefit of consumers, many big-name luxury brand will choose low-profit sales here and this has become a unique feature of Jiu-Guang.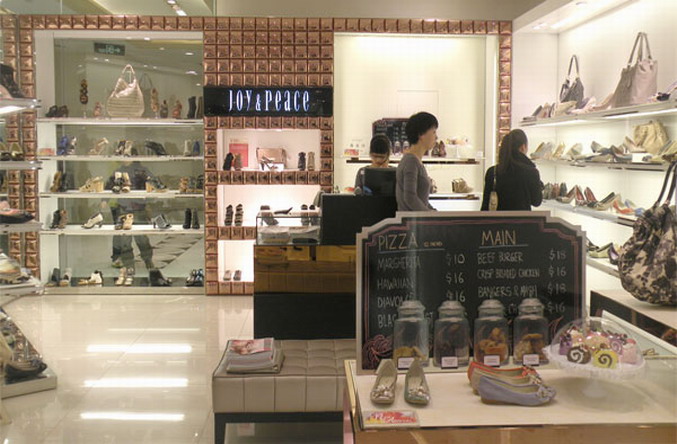 What you can get: imported fresh food, cosmetics, jewelry, fashion clothes, watches, housewares, electronic goods and much more.
Price: about 600 RMB per person.
Website: http://www.jiu-guang.com/shanghai
How to Get there: at Jing'an Temple Station on Metro line 2 or 7
Address: Numb 1616, Nanjing West Road, Jinan District. 地址:久光百货 – 静安区南京西路1616号久光百货
Map:
See here for more about Nanjing Road and where to stay, and an intro to Jing'an Temple Shanghai.