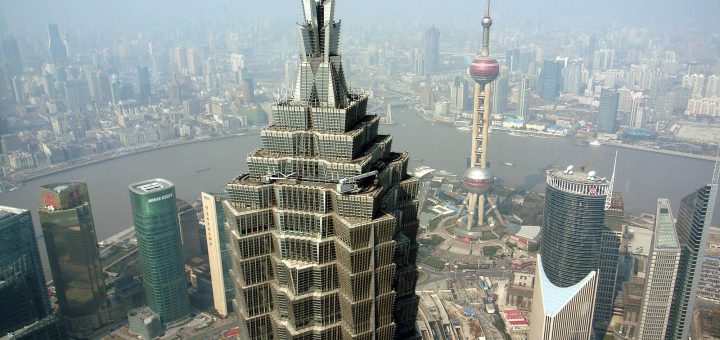 Jinmao Tower is located in the Lujiazui Finance and Trade Zone of Pudong New Area, near the Oriental Pearl Tower and beside the Shanghai World Financial Center and Shanghai Tower. It is one of Shanghai's most famous sights and landmarks.
It's the third highest skyscraper in Shanghai at a height of 420.5 meters, and the world's 20th tallest building. The building started construction in 1994, and was completed in 1999. It has 88 floors which consist of modern office building, five-star hotels, exhibition centers, entertainment, shopping malls and other facilities.
Jinmao shopping
J Life shopping center is located in the building's podium and features cafes such as illy Cafe, Jamaica Blue Coffee, Ninsei Japanese restaurant, Latour French restaurant, Paradise Garden for fine Chinese cuisine and dining. There are 6 boutique shops for fashion, jewelry, and wine along with beauty services.
Jin Mao Grand Hyatt Hotel
Jin Mao Grand Hyatt Hotel is a luxurious five-star hotel occupying the floors 53 to 87. See the rates and full range of offers.
The floors contain:
53 F – The Piano Bar, a jazz club. Open Monday to Sunday: 5 p.m. to 1 a.m
54 F – The hotel lobby and Grand Café which offers panoramic views, served by an express elevator from the tower's ground floor.
55 F – Canton, a high-end Cantonese restaurant that takes up the entire floor.
56 F –  A collection of restaurants including The Grill, the Italian Cucina, the Japanese Kobachi, and the Patio Lounge located at the base of the atrium.
57 F – Club Oasis, a fitness club and swimming pool.
85 F – Hotel Rooms
86 F – Club Jin Mao, a Shanghainese restaurant.
87 F – Cloud 9, a sky bar with panoramic view. Monday -Thursday: 5 p.m. to 1 a.m. Friday: 5 p.m. to 2 a.m. Saturday: 2 p.m. to 2 a.m. Sunday: 2 p.m. to 1 a.m.
88th-floor Observation Deck
At a height of 340 m and luxuriously outfitted it provides a special way to enjoy looking across the city. It also offers an amazing view looking down into the hotel atrium. It also features a post office, the highest in the world.
The sightseeing floor is open from 8.30 am to 9.30 pm. Tickets cost 120 CNY and 60 CNY for children.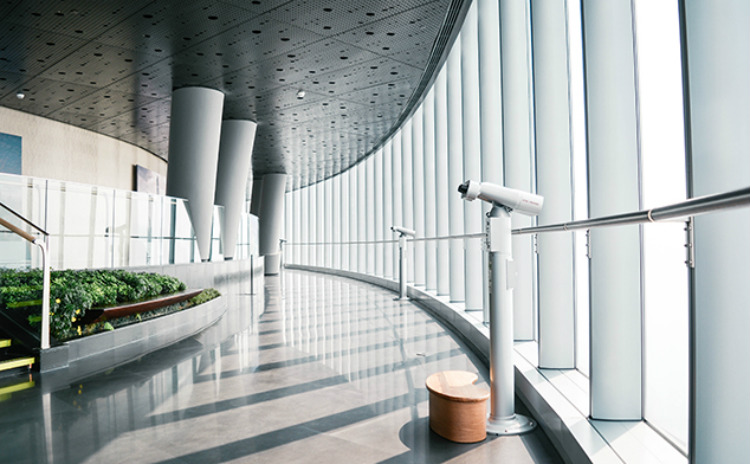 Walking in the Clouds
An amazing new attraction, you can walk around the outside of the building! Currently at 388 CNY per person, with the full ticket price set at 488 CNY. You are tethered as you stroll on the outer glass walkway and have a total time of 30 minutes. Advanced bookings may be required. Three time slots: 9am-midday, 2-5pm and 7-9pm.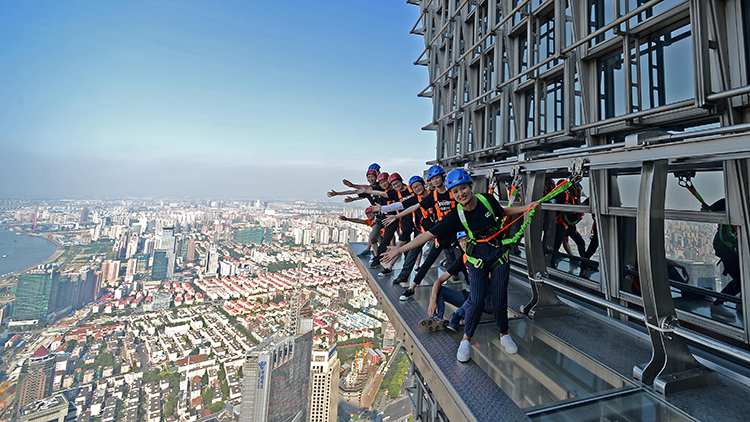 Getting There
Take Metro line 2 to Lujiazui station, Exit 5and a short walk.
Address ( English and Chinese)
Jin Mao Tower – 金茂大厦 – 88 Century Ave, Lujiazui, Pudong New Area – 世纪大道88号, 近东泰路.