Shanghai has two international airports servicing the city, one on its eastern side and one on its western side. The two airports are connected via metro line 2.
Airport location map
As mentioned earlier, you can transfer between the airports via Metro line 2 would take over an hour and cost 8RMB, or bus on the Airport Line 1 which takes around 1hr and costs 30RMB. A taxi between Pudong and Hongqiao would cost between 230-290RMB.
Pudong International Airport (PVG)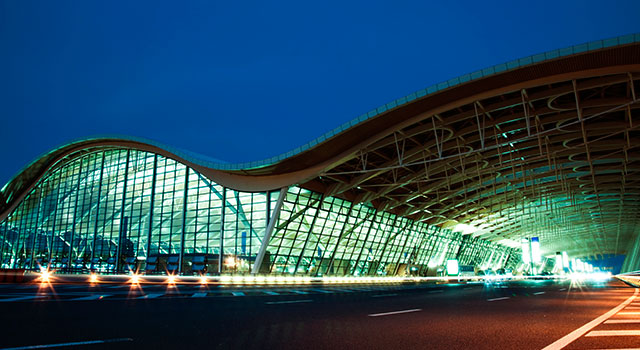 For metro: You can take metro line 2 directly from the airport. Line 2 heads through Pudong, the Bund, Nanjing Road and all the way to Hongqiao International Airport.
Bus: there are six airport lines in operation plus a late night bus which operates from 11pm until 45 mins after the last flight. See Bus routes here
Taxi: To central Shanghai it will cost between 150-180RMB.
Long-distance Bus: You can catch buses directly from the airport to Hangzhou, Jiaxing, Qingtian and Yiwu in Zhejiang Province, as well as Suzhou, Wuxi, Kunshan and Zhangjiagang in Jiangsu Province. Tickets available at stalls in the arrivals hall between gates 6-9.
See here for our hand-picked list of hotels near Pudong Airport 
Airport Website: http://en.shairport.com/pudongair.html
Hongqiao International Airport (SHA)
Click here to see the diagram for arrivals. You can choose metro, bus, taxi to leave the airport and reach the urban.
For metro, there are metro line 2 and 10 connected with the airport. You can take metro line 2 to get to People Square or West Nanjing Road. Metro line 10 can bring you to Tongji University, Jiaotong University, East Nanjing Road, and Yuyuan.
Bus, there are 5 bus lines for you to choose. They are: Hongqiao Hub 4 to get to Zizhu Science Park, Hongqiao Hub 9 t0 reach West Jiading Station, Airport Line 1 to get to Pudong International Airport, Bus 941 to get to Shanghai Railway Station, Bus 316 to get to East Yanan Road, Bund. See Bus routes here
Taxi: It will take you about 30 minutes and 60 RMB to get to People Square.
Long-distance Bus: You need to go to Hongqiao traffic hub of west central since June 2010 if you need long-distance Bus service. You can find bus to Hangzhou, Suzhou, Wuxi, Zhangjiagang there.
See here for our hand-picked list of hotels near Hongqiao International Airport
Airport website: http://en.shairport.com/hongqiaoair.html