Super Brand Mall
Located on prime Lujiazui street,  known as the "East Wall Street", Super Brand Mall is one of the largest shopping malls in Asia combining shopping, dining, and entertainment. It possesses a 13-storey retail podium and a shopping area of 247,425 square meters, it's definitely a great place for shoppers to go.
Mentioning restaurants, there are abundant dining options here, more than 70 restaurants with various cuisines and atmospheres can meet your different needs, no matter it is a business dinner, a romantic date, or a family and friends gathering.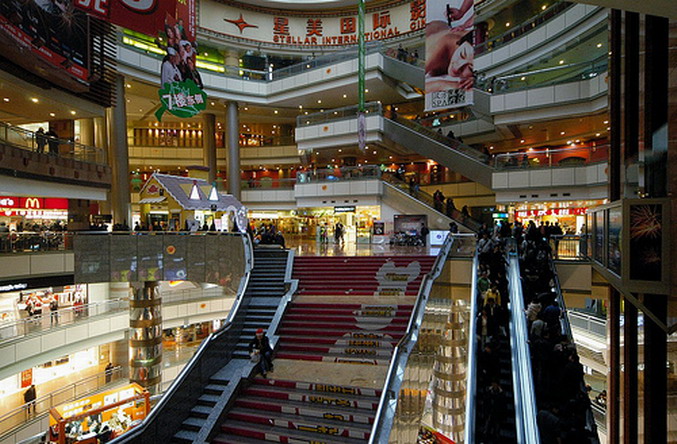 If you enjoy dumplings and xiaolongbao and would like amazing views over the Shanghai Bund, try Din Tai Fung restaurant on the 3rd floor.
All members of the family can have a whole day of fun at Super Brand Mall, there is the 1st Toys'R'us in China, also their largest store, providing products and services for kids, the largest Tom's World, indoor skating rink, cinema, and many family-style restaurants.
There is also a Fashion Paradise, featuring world-class fashion brands under one roof:  H&M, Zara, Uniqlo, C&A, Honey's, Novo,  Belano, Bossini, Nike 360, Addidas Classic, Tissot, Folli Follie, La Mia, Lacoste, Esprit, Sinequanone, Hilfiger Denim, Calvin Klein, Rosendahl, Timberland, Unisex and much more.
There is also a large number of beauty product stores including a new Laneige store. Other new stores including Nike Shoes, H:Connect and Tony Moly.
You can also easily find bookstores, spa, dental care, and children's development center here.
What can you get there:  jewelry, fashion clothes, watches, spa,  electronic goods, catering, entertainment and much more.
Price:  av. spend about 1300 RMB per person.
Open Hours:  10am–10pm
Website:  www.superbrandmall.com
How to get there:  Several minutes away from Metro Line 2,  Lujiazui Station.
Address:  No. 168, Lujiazui West Road, Pudong.  地址:浦东新区陆家嘴西路168号
Map:


Also, see the key attractions in Pudong and my pick of the top places to stay in Pudong.