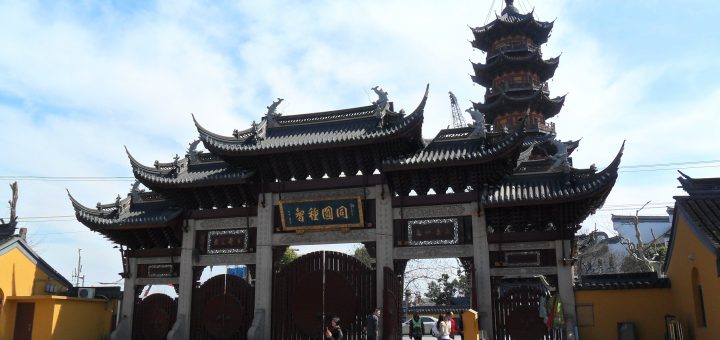 Longhua Temple is located in the southern suburbs of Shanghai and is one of the oldest and largest temples in the city.
Longhua Temple has documented recorded history of being built in the Northern Song Taiping Xingguo years (AD 977). The temple had a modern restoration in 1953 by the Shanghai Buddhist Association along with the addition of new buildings.
Main Attractions
The Maitreya Hall – features a statue of Maitreya Buddha.
The Heavenly King Hall (Tianwang Dian) housing statues of the Four Heavenly Kings.
The Grand Hall of the Great Sage – is the main hall, housing statues of the historical Buddha (Shakyamuni) and two disciples.
The Three Sages Hall – houses statues of the Amitabha Buddha, and the Buddistavas Avalokiteśvara (male form) and Mahāsthāmaprāpta.
The Abbot's Hall –  is a place for lectures and formal meetings.
A Bell Tower and a Drum Tower – The Bell Tower houses a copper bell cast in 1382, the bell is 2 metres tall, has a maximum diameter of 1.3 metres, and weighs five tons.
The Library –  houses various versions of Buddhist sutras and other Buddhist works, as well as ceremonial instruments, antiques, and artifacts.
Longhua Pagoda  –  built in 977 under the Wuyue kingdome (907-978) and is one of the most well-known pagodas in Shanghai.
Getting There
Metro
Take Metro Line 3 to Longcao Road Station. Take exit 1 and it's about 15 min. walk.
Address (English and Chinese)
Longhua Temple –  龙华寺 – 2853 Longhua Road, Longhua Area
Map