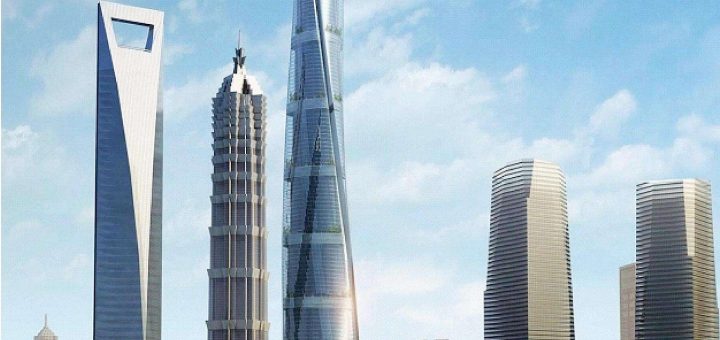 Pudong is the exciting new face of modern Shanghai and home to a huge array of attractions. Pudong is large, and the area most people will instantly know is Lujiazui which is located directly across from the Bund on the banks of the Huangpu River. Its full name is Lujiazui Finance and Trade Zone, and it's home to the Shanghai Stock Exchange, the Oriental Pearl Tower, the Jin Mao Tower, the Shanghai World Financial Center, and the Shanghai Tower.
Beyond Lujiazui, Pudong New Area includes the Port of Shanghai, the Shanghai Expo and Century Park, Zhangjiang Hi-Tech Park, Shanghai Pudong International Airport, the Jiuduansha Wetland Nature Reserve, and the Shanghai Disneyland Resort.
That's probably hard to picture, so I'll present a map outlining the area and also feature all the attractions of Pudong plus the top places to stay.
The Key Attractions in Pudong New Area
Shanghai Tower – 上海中心大厦 –  the newest tower in the area and the tallest, offering observation decks, sky gardens and more.
Shanghai World Financial Centre – 上海环球金融中心 – offering observation decks and luxury hotel.
Shanghai Oriental Pearl TV Tower – 上海东方明珠广播电视塔 – the famous tower facing the Bund.
Jin Mao Building – 金茂大厦观光厅 –  skyscraper offering observation and viewing platform on the 88th floor and five-star hotel in the sky.
Shanghai Disneyland Resort – 上海迪士尼乐园 – the new Disney theme park and resort
Science & Technology Museum – 上海科技馆 – large exhibition and museum focused on science and life
Super Brand Mall – Large shopping mall with restaurants, recreation, and shopping
Shanghai Pudong International Airport – Shanghai's busiest airport
Shanghai Maglev – the 350 km/h plus fast train
Riverside Avenue 滨江大道 – runs along the bank of the Huangpu River providing views across the water of the Bund.
Lujiazui Central Green Space 中央绿地 – set amongst the tallest buildings in the world this green space has become quite famous.
Shanghai International Convention Center 上海国际会议中心
Bund Sightseeing Tunnel 观光隧道
Century Park 世纪公园 – the largest park in Shanghai featuring woods, lakes, and lawns.
Shanghai Qinci Yangdian Taoist Temple 钦赐仰殿 – one of the oldest Taoist temples in Shanghai dating back to 1770 AD
Chao Yin Temple 潮音庵 – Buddhist temple that dates back to the Qing Dynasty
Other Attractions
Shanghai Huaxia Cultural Tourism Zone  上海华夏文化旅游区 – A developing area to host cultural, residential and business.
Nanpu Bridge 南浦大桥 – not so much of a tourist attraction more an interesting urban feat
Yangpu Bridge 杨浦大桥 – as per above
Tropical sea palace 热带海宫 – a potential development
Huang Yanpei Former Residence 黄炎培故居 –  a Shanghai Patriotism Education Base, the former home of the founder of many of Shanghai's educational institutions.
Zhang Wentian Former Residence 张闻天故居 – a Shanghai Patriotism Education Base, the former home of an important political figure.
Chuansha Park 川沙公园 – Chuansha Park is a Jiangnan classical garden
Shanghai Ancient Folk Entertainment Village 上海古代民俗娱乐村 – new development
Sunqiao Modern Agricultural Development Zone 孙桥现代农业开发区
Gaoqiao Martyrs' Cemetery 高桥烈士陵园 – memorial
Chuansha Martyrs' Cemetery 川沙烈士墓 – memorial
Fu Jia Rose Church of Our Lady 傅家玫瑰圣母堂 –  Church
Tang Geqiao deity of the Church of Our Lady 唐基桥露德圣母堂 – Church